Amy Bruno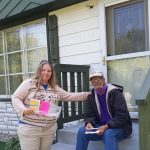 City:
Minneapolis / St.Paul
State/Prefecture:
Minnesota
Country:
USA   
It has been a ripe Harvest since Covid hit, many hearts have been open to the good news in light of events of the world including Muslim hearts, praise Jesus! Minnesota has the largest Somali population (whom I love) in the United States, one of the most unreached people groups in the world! And there are over 100 different languages spoken here in the Twin Cities. So it seems God has brought the ends of the earth here to my home state!
During Bible College, there was a moment in missions class that I knew God was calling me as a full-time missionary and telling me to prepare. After spending time abroad in-between Bible College in Mexico and Israel and mission trips in Kosovo, Malta, Mexico, and Guatemala these past several years, I never thought God would call me as a missionary back to my own home state of Minnesota. I was and am prepared to go wherever, but I never imagined that wherever would be back to my home state of Minnesota, but for the moment this is where He has me and I have grown to love the people here again. My hope now is to soon lead short-term mission trips with people I am on mission with here and new people.
During the lock-down of Spring 2020, the Lord laid it on my heart to Saturate my Jerusalem in Saint Paul with the gospel door-to-door since that was where people were at, in their homes. My Streel Level ministry friends decided to join in the mission of saturating my zip code of 15,000 homes where we met in my parent's garage to pray and saturate week after week for eight months straight. During that time the Lord raised me up as an outreach leader with Street Level Ministry and in the Twin Cities also as the first leader of the Saturate Twin Cities movement. Since then, I have led the Street Level Ministry team on to saturate more zip codes with the gospel including a Muslim and Jewish zip code that are now almost complete all to the glory of God! Along the way God has allowed us to encourage churches and ministries in the Twin Cities to adopt their zip code to saturate with the gospel and given me and missionary friends opportunities to speak at several churches this past year to encourage them in evangelism and outreach with them. 30+ zip codes have been adopted in Minnesota since, and some out of state as well, all praise to our King Jesus! Lord willing it will continue until every zip code has been adopted for the gospel to go out! To find more details on this for pray and progress, go to SaturateTwinCities.org.
These ministries have led into more ministry partnerships and opportunities the past couple years including with Jewish and Muslim national ministries. On top of all of this, I somehow manage to serve as a caregiver for seniors in my life, which has been another aspect of outreach and ministry the Lord has led me into for many years now. So, it is pretty much outreach all the time, and I love it! God has called me to preach the gospel, to lead outreaches and missions of all sorts it seems, to a variety of people, which I believe is His heart.
Ministries I am currently focused on:
StreetLevelMinistry.org / Ministry to Muslims
SaturateTwinCities.org / SaturateUSA.org
Seniors/Disabled / Transportation ministry
For photos and updates, visit: AmyLovesJesus.com