Rhodie Fisher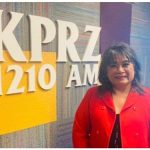 City:
State/Prefecture:
Country:
USA   
Born and raised in Hawaii and accepted Jesus as my Savior here in California in October of 1973. Attended Melodyland Christian Center (Church) and Calvary Costa Mesa after accepting JESUS. Attended and served in ministry in the church (Calvary Chapel Anheim then Calvary Chapel Fullerton) and other Christian settings as a Sunday School teacher, Co-director of Sunday School, Ladies Bible Study's, Release Time Christian Education (in Anaheim then Chino Hills), ministry to the unsaved with a heart for the Muslims, and singing in the choir.
My husband Mark and I have been married for 28 years and served in ministry during those years. We have been blessed with a blended family of 4, with 12 grandchildren.
Rhodie has her own radio program on Hope Radio beaming out of Corona, CA, as well as KPRZ in San Diego.