Ray & Colleen Colella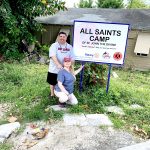 City:
State/Prefecture:
New Providence Island
Country:
BAHAMAS   
Missionaries to ASC Bahamas
We have been involved in Worldwide missions since 2002. The call to foreign missions was evident from day 1. The Lord sent us out to various countries to do projects and delve into many different cultures. This was incredible hands on training, as well as cross cultural communication learning,
We have been serving in the Bahamas, doing short term mission trips at All Saints Camp for many years. This is an HIV camp where the residents who live there have been sent off by family because of their illness. This is a camp where many are abandoned and left to look after one another.
The Lord has called us out to be full time missionaries to the Bahamas to care for these people in this awesome place! Our mission calling is complete hands on care with each patient, providing healthy meals each day, building projects to maintain site, bible studies, and worship services taking place. We believe that we will bring the love of Christ through teaching and being Christ in action to a people who need the hands and feet of Jesus!!